Repair and Conservation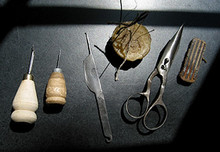 The amount of repair that should be done is always a question. No one should expect antique oriental rugs and carpets to look new, since the processes of age and use are what give them character. But depending on how they are used, repairs should be done to protect, to conserve, and sometimes to reverse bad repairs of the past.
Repairs should always be done by experts, such as those at Eli Peer Oriental Rugs. The repairs must be done with the same materials and tools as the original, even if it is goat hair, and the piece should be cleaned first.
Some repair processes are typical, like overcasting the fringe ends to prevent loss of pile and the restoration of the side cords. Problems with curling sides and out-of-shape condition can often be corrected during washing. But many old rugs have serious problems like holes, lost borders, severely worn or rotten areas, insect damage, stains and bleeding colors. All of these can be addressed, and we will estimate the cost for you and explain the process, so that we can exceed your expectations. Bring in your rugs, or send us pictures. Depending on the distance, we can arrange to come to your home or office. If you have doubts about the value of your rugs and carpets and the cost effectiveness of repair, then ask us for an appraisal.